I have a coach who has ingrained in me a few favorite mantras. One I particularly love is:
If I am not winning, I am learning.
This short sentence perfectly sums up all the wisdom I have gathered from top personal development experts and positive psychologists. Things like how important goal-setting is. Why stepping out of your comfort zone is essential to grow as a person. And how to rethink failure so it is something to celebrate.
As we come to the close of 2019 and the end of a decade – a decade! – I wanted to celebrate my writing wins and also reflect on some lessons gleaned during the past 12 months.
Here are three writing wins and lessons in 2019…
1) Writing Win – Writing and Publishing Two Books
Win: I wrote and published two books in 2019: Rediscover Your Sparkle and Clutter-Free Forever. I am delighted with both books. Rediscover Your Sparkle reflects my key message (more on that below). Clutter-Free Forever, released just a month ago, remains the number one new release in its categories on Amazon.
But…The goal was to write three books in 2019.
Lessons: There are a number of lessons I could take from this win. Perhaps I should have scheduled better or focused more. Maybe I should have realistically evaluated just how much school holidays and other family obligations can cut into writing time.
The Real Lesson: What I am taking away from this writing win is that I wrote and published two damn fine books, from scratch, while juggling book marketing, author admin plus home and family life. The real lesson is that I deserve a pat on the back!
2) Writing Win – Attaining a Guest Interview on 6 Podcasts
Win: My half-dozen podcast interviews were a real highlight of 2019. I had looked at all the ways of sharing my books and knowledge (guest blogging, ads, newsletter swaps etc.). Having a conversation with someone across the Internet definitely seemed like the most fun.
But… I wanted to secure 10 podcast interviews.
Lessons: I could decide that 10 interviews, while writing books and everything else was simply too ambitious. Or I could fault my goal-setting method – I had actually written 'guest on 6 podcasts'. I had written 6 exactly, not 6+ or 10! I got exactly what I wrote down.
The Real Lesson: I am actually extremely proud of landing six podcast interviews in 2019. I taught myself a brand new skill – how to pitch. More importantly, I did some deep work on myself to get over my paralyzing fear of rejection, including making the pitches into a game where winning meant appearing on one podcast interview. The real lesson is getting over my fears leads to learning, growth and fun – all important values of mine.
3) Writing Win – Nailing my Key Message
Win: Working out and drilling down to the main message I wanted to convey through my books and blogs was a great win in early 2019. 'Rediscover Your Sparkle' was a theme evident in everything I did and I promptly wrote a book on it, cementing it as the key message of my brand.
But…By the end of 2019 I have still not sorted a particular niche.
Lessons: Everyone tells you to niche down, to find your specific tribe so not settling on this seemingly vital piece seems like a lesson I still need to learn.
The Real Lesson: What I have worked out over the past 12 months is that I don't like niching down, I don't like being labelled or being boxed in. As I have written books on topics as diverse as potty training, bucket lists and decluttering, finding a group of people who wants to know about ALL those things is impossible. The real lesson is to trust that my tribe will find me with my unique message and offerings. And if you are reading this, that is you!
You Win Some…
Looking back at 2019, I am very proud of my three writing wins – publishing two books, landing six podcast interviews and nailing my 'rediscover your sparkle' message.
As with all wins, there are a number of lessons that accompanied them. With the move into the festive season and end of year with the emphasis on resting, love and celebration, I believe the overall lesson from my writing wins this year is to not be too hard on myself.
Through writing wins, through losses and through all my learnings in 2019, it has been helpful to remind myself of another favorite saying from my coach. I share it here in the hope that you give yourself the all the rest, love and celebration you deserve at the end of this decade:
The only thing you have to do is breathe.
Merry Christmas and a Happy New Year 2019, love Julie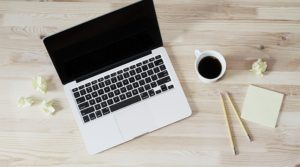 Check out my new books – Rediscover Your Sparkle and Clutter-Free Forever
To listen to my podcast interviews, find links under Media 
The group coaching academy I belong to is called Wellbeing Warriors. Find out more about it here. I am not an affiliate, I just love and recommend it.
Like this post? Read some other posts on this topic:
Five Ways Looking Back can Help You Look Forward
Baby Boomer Writer's Ups Downs and Inbetweens in 2019
Cat's Ups, Downs and Inbetweens on the 2019 Writing Road
Christmas Peanuts & Linus's Inspirational Message For Us All
Rosie's Ups, Downs and Inbetweens on the 2019 Writing Road