A bundle of 3 of the most popular books from the Nourish Your Soul book series, available in ebook and now also in paperback: 
Bucket List Blueprint
Super Sexy Goal Setting
Find Your Purpose in 15 Minutes
Available on:
This is not said lightly—this boxset WILL change your life.
Do you feel like your life is going nowhere?
Do you struggle to get out of bed each morning?
Do you feel like there is a more exciting or meaningful life you could be living?
This Change Your Life 3-in-1 Collection (Boxset) helps you take action towards your best life and do what makes your heart sing.
Follow the short, chunked down chapters in this boxset to:
understand your true self better
rediscover buried desires and long-held passions
know exactly how to determine what you want in life
lead and inspire others to live life on their own terms
wake up each morning with a sense of excitement and zest for life
spend quality time with friends and family doing fun things together
feel like you are living the life you were meant to live, one with excitement, meaning and true joy
Bucket List Blueprint will give you practical advice to write the best bucket list personalized for your circumstances, and, most importantly, how to check off items so that you start bringing your dreams to life.
It will also:
cut through the confusion around what a bucket list is and is not (it is definitely not just for the terminally ill or nearly dead!)
provide compelling reasons why a bucket list is an essential part of life
tell you exactly what to do to discover items for your personal bucket list
Don't wait until you almost 'kick the bucket' to read this book! Download it today and live a breathtaking life where your long-held dreams turn into amazing memories.
'I loved the acronyms … they gave me a great start to building my 'before 40' bucket list. Let the fun times roll!'
'You will be supercharging your way to a richer life in no time as you check off your bucket list.'
Super Sexy Goal Setting will give you the simplest and most fun way to set goals that lead to a life you love.
It will also:
help you easily set goals that are perfect for you
explain how super sexy goals give you MORE time and energy (yes, really!)
detail what to do to work out your goals—even if you have never set goals before
Don't wait until another year rolls by with failed New Year's resolutions! Four super sexy goals. One year. Your life transformed.
'Takes you by the hand, step-by-step, so that by the end of the book even a goal-setting novice will have an action plan.'
'I feel so much more in control and excited to achieve my goals.'
Find Your Purpose in 15 Minutes delivers a handy tool to help you discover your life purpose in a matter of minutes.
It will also give you:
A definition for purpose that is easy to understand
A simple template to write out your ideal purpose statement
A 15-minute exercise that creates your best purpose step-by-step
An ideal purpose that feels profoundly significant and unique to you
There is a light inside of you that has been dimmed for far too long. Let the world see you shine.
'The exercise is fun and the result is something that feels personal and genuinely meaningful.'
'Finding my purpose using the process in this book was amazingly quick, delightful and satisfying, and also unexpectedly moving – I found myself in tears of happiness!'
What's stopping you from being the happy, energized and successful person you always thought you would be?
To add some much-needed clarity, direction and joy back into your life, buy this Change Your Life boxset in ebook or print today.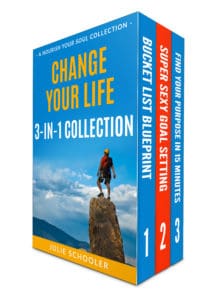 Reviews
I read a lot of self help books and honestly this trilogy is brilliant. I've even created my own bucket list and tweaked my goals along with the suggestions.
Three books to inspire and motivate. This three-volume boxset is packed with loads of information and step-by-step guides to help not only set practical goals but how to attain them.