Julie Schooler – Author Coach
I hold your hand until there's a book in your hands
Did you always want to write a book but have no idea how to start?
Have you been writing and would now love to see your book in the world?
Do you want to check off a major bucket list item and be a published author?
Thanks to changes to the publishing landscape in the past few years, you CAN write AND publish a book quickly and easily once you learn how.
Of course, you can figure it out all by yourself, but why spend hours searching for information all over the Internet?
Author coaching will help you overcome mindset issues like imposter syndrome, distracted focus and writers block. It also assists you with practical strategies such as how to find an editor, getting an ISBN and launching your book.
You will have a clear direction and won't be confused by conflicting advice.
An author coach provides a hassle-free experience to speed up the writing, publishing and book marketing process so you can share your creativity with the world.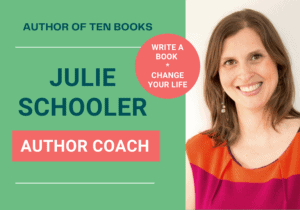 Is Author Coaching for YOU?
If you answer YES to any of these scenarios, author coaching will help you:
You have always really wanted to write a book but don't know where to start
You are writing a book and it never seems to actually get finished
You have written a book and now don't know whether to attempt self-publishing (indie publishing) or take the traditional route
You want to self-publish but are overwhelmed with everything you need to do to get your book out into the world
You need some help finding an editor, cover designer, formatter, beta readers or setting up a book launch team
You have dipped your toe into the book publishing world and are confused by all the acronyms (KDP, ISBN, ASIN, DRM, POD), filling out tax forms and more
You have published a book or two and need help with sales and marketing, e.g.: building email lists, getting more reviews or paid advertising
You have a bunch of questions about book publishing and you would really like clear, correct and straightforward answers to them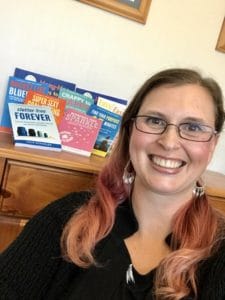 About Julie
Hi, I'm Julie Schooler, mama of 2 tiny humans and author of 10 self-help and parenting books including Easy Peasy Healthy Eating, Find Your Purpose in 15 Minutes and my free ebook, Rediscover Your Sparkle.
A few years ago I found myself pregnant with our second child and out of a job. I went to a coach and said I had always wanted to write a book. By the time our baby was six months old, my first book, Easy Peasy Potty Training was published.
Now, 6 years later, I have written and published 2 parenting books, 7 self-help books, 2 boxsets and 1 children's picture book, Maxy-Moo Flies to the Moon. I have also drafted and not published (yet) 3 novels.
I knew absolutely nothing about writing, publishing and marketing books 6 years ago. I didn't even know there was only space after a period / full stop! I invested thousands of dollars in courses and coaching plus I drank from the firehose of blogs, podcasts, articles and writing guides.
Today, I know exactly how to write, publish and market a best-selling book.
And I would love to share my knowledge with you so you can do it too.
"It was a pleasure to work with Julie in the process of getting my first book self-published. I felt like a babe in the woods and Julie guided me through figuring out how to publish wide and connect with the dynamic community of indie authors. I would highly recommend working with her!" – R.A. Harding, author of Public Works Steampunk presents: Jane Eyre
"Julie was super helpful in peer reviewing my first attempt at writing a children's picture book. Her feedback was thoughtful, practical and most important of all, truthful! She gave me the confidence to push on with what I had, reshape what needed tweaking, and provided plenty of tips (as well as laughs) along the way." – Kelly
Take Action on Your Author Dreams Today
Simply email me at julie@julieschooler.com and tell me you are interested in author coaching. Include any burning questions you may have about writing, publishing or marketing books – I am always happy to help. I will reply back and ask a few questions to pinpoint exactly where you are at and if author coaching with me is right for you.
Click on the link to send me an email today: julie@julieschooler.com

How is Author Coaching with Julie Different?
One-on-one author coaching with me is tailored specifically to YOU. We will work together to get the outcome you want, whatever it is. Do you need to find an editor, create a launch plan or simply finish your book?
I will combine my extensive knowledge of the book publishing process with goal-setting tools like accountability and deadlines so you can proudly hold your book in your hands.
I won't write your book for you but I will give you time saving tips so it will get finished (have you tried dictation or writing on your phone?)
I won't tell you if your book is 'good' but I will give you exact process to find the right editor including the template I used to find mine
I won't read your book but I will show you how to find beta readers in your genre who would love to read it
I won't publish your book for you but I will show you how to do it step-by-step on each of the main platforms: Amazon, Kobo, Google Plus and Draft2Digital
I won't overwhelm you as take action towards your writing and publishing goals but I will keep you accountable
"After feeling stuck for months, Julie's coaching helped pull me out of my writing slump and move ahead with my WIP (work in progress).  Her effervescent personality lifts your spirits and makes you feel as if you can tackle anything." 

 – Cat Michaels, award-winning author of Sweet T and the Turtle Team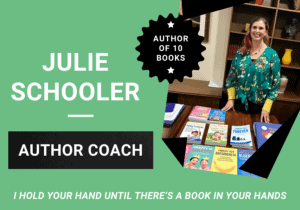 Author Coach Prices
I have spent over $6,000 in author and business coaching and courses. For the first time ever, you get access to all this knowledge for a fraction of the cost.
You have a choice of two author coaching options:
Author Coaching 1 Hour Session: A 1-hour online author coaching session for US$99. Perfect if you want adhoc author help or have a bunch of writing, publishing or book marketing questions that you would like answered.
Author Coaching Package with Bonus: 4 x 1 hour online author coaching calls over 1 to 2 months for only US$297!!  Bonus – this coaching package also includes email support. Yes, I will answer any email queries you have on writing, publishing and book marketing during the time period of your calls as well.
Tap to send me an email: julie@julieschooler.com with your writing, publishing or book marketing queries and for an absolutely non-salesy chat about whether author coaching with me is right for you!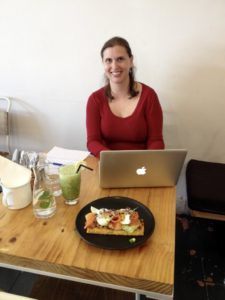 FAQ
Q: Can you help me with any type of book or is this only for non-fiction writers?
A: I can help you regardless of what you write – fiction, non-fiction, picture books, novels, novellas, short stories, romance, crime, sci-fi, fantasy, poetry. Let's talk: julie@julieschooler.com
Q: Will you help me even if I want to be traditionally published?
A: I will help you with the decision-making around going traditional or self-published, where you can submit your work and what to look for in a publishing contract. I won't be able to help you find an agent or navigate all the legalities of signing a contract.
Q: Do you offer a payment plan?
A: Yes – only for the author coaching package which can be split into 3 x monthly payments of US$99.
Q: Do you offer a refund policy?
A: Refunds can be issued on a case by case basis.
Q: Does it matter where I am in the world?
A: No. All author coaching is online and we can connect over Zoom (or similar) at a time that suits both of us. If you are in Auckland we could meet up in person if you prefer.
Q: What happens if I can't make the time of our call?
A: No problem, just let me know as soon as possible and we will reschedule.
Q: Can I extend out or shorten when the coaching calls happen for the author coaching package?
A: If you want all 4 calls in a week or one call a month over 4 months, that can be arranged. Any longer and we would have to discuss it.
Q: How can I ask more questions?
A: Send me an email (julie@julieschooler.com) with your writing, publishing or book marketing queries and for an absolutely non-salesy chat about whether author coaching with me is right for you.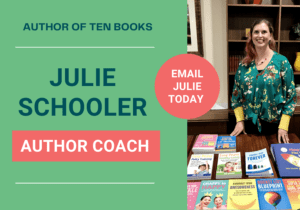 Write a Book – Change Your Life
Writing my first book changed my life and every week I get messages from people all over the world that have been positively impacted by my words.
I want YOU to feel the same sense of success, fulfilment, accomplishment and creative pride that I felt when I published my first book and still feel today even after publishing my tenth.
I am on a mission to help people get their creative projects out into the world. We need entertainment, education and inspiration in these banana-pants crazy times. The planet needs us all to show up, connect and be creative.
The world has changed so much in the last year. There are no rules in more. Do the thing that brings you joy, even if it seems hard at first.
Why not write and publish a book? No one can stop you.
Imagine how you will feel when your book is in your hands.
"Having Julie by my side helped tremendously. Her knowledge is second to none and her energy is contagious." – Madeleine Eskedahl, best-selling author of Blood on Vines
Tap to send me an email: julie@julieschooler.com with your writing, publishing or book marketing queries and for an absolutely non-salesy chat about whether author coaching with me is right for you!