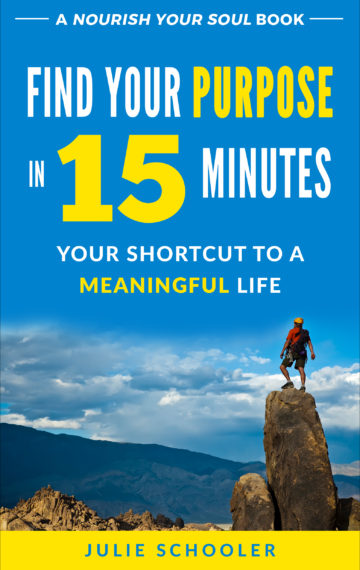 Published:

December 2, 2018
Amazon
Apple Books
Available From Your Favorite Store
Your Shortcut to a Meaningful Life
by Julie Schooler
Available to purchase on all good online bookstores, including:
Do you feel like your life is going nowhere?
Do you struggle to get out of bed each morning?
Do you want your life be meaningful but don't know where to start?
Find Your Purpose in 15 Minutes delivers a handy tool to help you discover your ideal life purpose in a matter of minutes.
This short book will give you:
A definition for purpose that is easy to understand
A simple template to write out your ideal purpose statement
A 15-minute exercise that creates your best purpose step-by-step
An ideal purpose that feels profoundly significant and unique to you
More than ever, people all over the world are feeling disillusioned and disempowered. In Western countries many of us are fortunate to have plenty of material comforts, but statistics show that we are unhappier than we have ever been.
We are told that finding our purpose, our WHY, can help us feel less miserable and lost. However, it seems like it would be a long and arduous task to figure it out. This keeps us STUCK, as we know we can't go on living without a meaningful purpose BUT we are not sure how to find one.
This easy-to-read book will not only guide you to find your purpose but also show you how to LIVE it – incorporate your newfound purpose seamlessly into your life and effortlessly stay the course.
Finding my purpose in 15 minutes has helped me to structure my life better, say 'no' to the unimportant and feel renewed energy when a perfect project comes my way.
This book will also help YOU:
understand your true self better
rediscover buried desires and drivers
know the direction to follow to get what you want
lead and inspire others to live life on their own terms
wake up each morning with a sense of excitement and zest for life
feel like you are living the life you were meant to live, one with meaning and true joy
Follow the quick and robust method to find your purpose and then spring out of bed every morning with renewed enthusiasm for living, not just existing.
You won't need to spend hours searching for information all over the Internet. You will have a clear direction and won't be confused by conflicting advice. In less than a couple of hours, Find Your Purpose in 15 Minuteswill give you the exact blueprint to writing your own purpose in a way that feels like you have known it all along.
As one of the early volunteers of this tool said: "This is very insightful and I wish I had done it a long time ago. It's comforting and liberating at the same time. It makes all the noise fall away and provides that clarity we are always looking to find."
What's stopping you from being the happy, energized and successful person you always thought you would be?
There is a light inside of you that has been dimmed for far too long.
Let the world see you shine.
Add some much-needed simplicity, freedom and joy back into your life and buy your ebook or paperback copy today.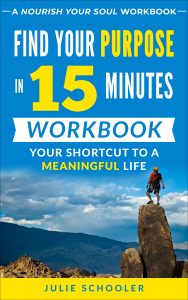 STOP THE PRESS! Check out Find Your Purpose in 15 Minutes Workbook. This WORKBOOK is a complete and unabridged version of the best-selling book, Find Your Purpose in 15 Minutes, with workbook additions. Throughout the workbook, there are sections with questions, prompts and plenty of blank lines. Ultimately, Find Your Purpose in 15 Minutes Workbook will guide you to write your life's purpose within its pages.
Find Your Purpose in 15 Minutes is part of the Nourish Your Soul series that shares delicious wisdom to help readers feel calmer, happier and more fulfilled.
Reviews
It's an easy read, the exercise is fun and the result is something that feels personal and is genuinely meaningful.
This guide is clear, concise, informative, well-researched and humorous. The helpful prompts guide you to come up with a personal purpose statement that best reflects you with ease and enjoyment.