There are now fewer than 100 days left of this year, 2019… and the whole decade! It feels like the Earth is spinning faster than ever. It's out of control.
It's astounding that a new decade is almost upon us, that 2020 is around the corner. But it's not here yet. You don't have to reach for that indicator. You still have time to tackle a challenge or three in the next 100 days.
What are you going to do? How can you choose when there are so many options? Where should you focus to make the most of these next 100 days?
Here are three zany challenges for the last 100 days of this decade…
1) Declutter 100 Items
Unless you have been living under a rock, you would have heard of Marie Kondo and how much her book and TV series are influencing a decluttering phenomenon. You probably want to declutter your living space but are not sure where to begin.
Zany challenge: declutter one item out of your home each day for the next 100 days. Choose things you are certain that you no longer want. You don't have to throw them out the door, one by one. You can put them all in a box somewhere and take them away at the end. That is 100 fewer items in your home. Yes, it is not a full declutter but it is a jolly good start.
The point of this challenge is to jettison clutter from your life so that it doesn't take up physical and mental space in the fresh new decade.
Don't want to declutter? Feel free to adapt it to suit your circumstances, for example with unfinished projects: paint that fence / restore that vintage motorcycle / digitize those photo albums.
2) Write a Novel in a Month
Each year, in November, thousands of writers all around the world take up the challenge to write a 50,000 word – approximately 180 page – novel for National Novel Writing Month (NaNoWriMo).
Zany challenge: write a novel in a month. It only has to be the first draft. It doesn't have to be 'good'. It is certainly not ready for publishing. But you can now say you have written a novel.
It seems like an impossible task – and that is exactly the point. Tackling something preposterous, even if you don't succeed at it fully, will start off your 2020 with a reinvigorated understanding that you can have a go at anything if you really want to.
Don't want to write a novel? Adapt it to another seemingly impossible challenge: cook a gourmet meal for six / break a Guinness world record / run a marathon.
3) Jump out of a Plane
When I was 19, I jumped out of a plane. It was a static line jump, not a tandem skydive. I always thought I would do an actual tandem skydive 'one day'. Well 20 years passed and it wasn't until I made an absolute commitment to tandem skydive for my 40th birthday that it actually happened.
Zany challenge: do a tandem skydive. Of course, I recommend getting medical advice before doing something as ridiculous as strapping yourself to a stranger and leaving a functioning aircraft at 13,000 feet above the Earth's surface.
Do the thing that you always said you wanted to do. Sure, it may terrify you but do it anyway. Do that one thing that you have constantly thought about doing 'one day'. Make the end of this decade a special one by fulfilling a long-held promise to yourself.
Don't want to jump out of a plane? You know deep down what your thing is so book it in today: go dog sledding / get a tattoo / take the stage at open mic night.
The Clock is Ticking
Look, you don't have to declutter 100 items, write a novel or jump out of plane to see out the last 100 days of this decade in style. But, please, choose to finish off something, embark on something that seems impossible and do something you have always said you want to do.
These may be zany challenges but your 2019, and this entire decade, will be richer for tackling them. Plus, you will start 2020 off with the wisdom that you truly are in control of your life.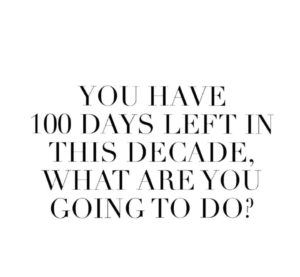 If you enjoyed this blog post then check out my book, Bucket List Blueprint, and look out for my latest book on decluttering, coming soon.
For more information on National Novel Writing Month, check out NaNoWriMo.org.