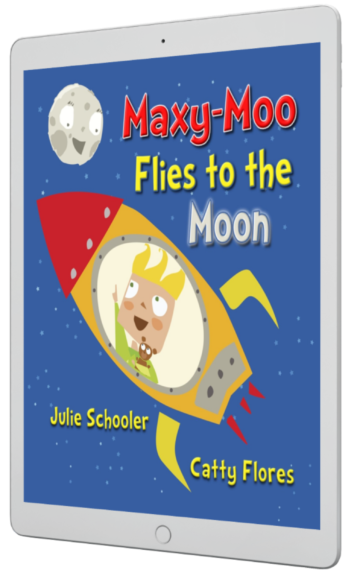 Published:

January 1, 2015
Ebook Available Exclusively on Amazon
Paperback and Hardback Available on Amazon and Elsewhere
written by Julie Schooler, illustrated by Catty Flores
"Maxy-Moo, it's time for bed!"
"No!" he stomps, shaking his head.
"No bed yet, it's way too soon.
Instead, I want to fly to the moon."
Maxy-Moo escapes his bed and flies to the moon where an amazing adventure awaits him.
Maxy-Moo Flies to the Moon is fun and whimsical bedtime story with simple rhymes and bold pictures from a professional illustrator – a great book to read to your tiny humans.
Inspired by two classic children's picture books – Where the Wild Things Are meets Giraffes Can't Dance, my first children's picture book is now available on Amazon in ebook (Kindle), paperback and hardback – here.
If you are an Australian or New Zealand Bookseller and would like to purchase hardback copies at trade rates, please contact Ingram Spark's local distribution partners:
Booktopia
Fishpond
The Nile
James Bennett
ALS
Peter Pal
University Co-operative Bookshop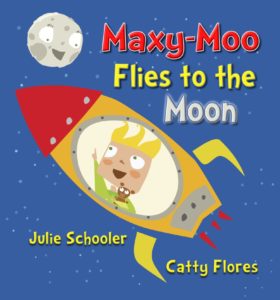 Reviews
As the founder of Boy-Responsive Literacy Consulting, LLC, I'm always looking for great books for boys to ignite their imagination. 'Maxy-Moo Flies to the Moon' is now added to my list.
This is a perfect bedtime story. I found myself smiling the entire time. The rhymes are great: fun flow and rhythm. The illustrations are SO good! I love the conga line of animals around the moon. A fun premise for kids not ready to go to sleep. Kids will love this sweet story.