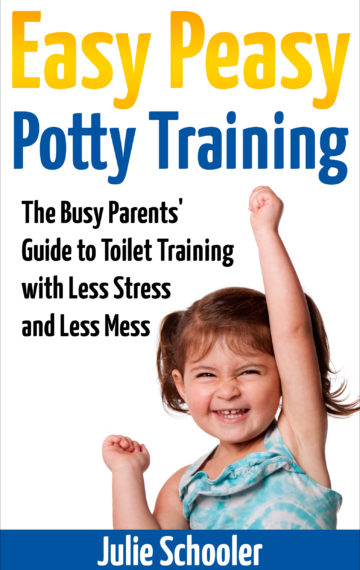 Published:

November 7, 2015
Amazon
Apple Books
Available From Your Favorite Store
The Busy Parents' Guide to Toilet Training with Less Stress and Less Mess
by Julie Schooler

Available to purchase on all good online bookstores, including:
Exciting news! Easy Peasy Potty Training is now available as an audiobook!
The unabridged audiobook is professionally narrated by Kathleen Li. In just over 3 hours, it has all the straightforward information, non-judgmental wisdom and humorous anecdotes from the book. Plus, it has absolutely no 'potty mouth' words so is safe to play out loud around your little one.
Find it at your favorite audiobook store, including:
The thought of potty training stresses most parents out. It's a topic that:
• you may know very little about, and
• what you do know sounds difficult, messy and full of contradictory messages
The Easy Peasy Potty Training book is a simple to follow, step-by-step process to toilet train your child. It answers your burning questions, busts myths and tells you what to do if there are problems.
Follow the short, chunked down chapters in Easy Peasy Potty Training to:
• help you make decisions such as whether to start on a potty or the toilet
• get a comprehensive shopping list for all your potty training needs
• give you lots of tips on preparation tasks to make toilet training go smoothly
• provide a simple three stage approach to potty training
• find out what actions to take when accidents happen
• have the best transition to no diapers at nighttime
• prepare for childcare and leaving the house
• get solutions to common potty training problems
Read this book and you won't spend hours searching for information.
One book. Potty training. Done.
Get your copy today in ebook, print or audiobook and you WILL potty train your child – with less stress and less mess.
Easy Peasy Potty Training is part of the Easy Peasy series. These books provide simple and straightforward information on parenting topics so that busy parents don't have to spend their time and energy getting conflicting, inaccurate and just plain silly advice.
Reviews
This book tells you everything you need to know without overwhelming you with details or strategies, and is written in an extremely humorous and easy-to-read way and I often found myself laughing out loud at the anecdotes scattered throughout the book.
I'd give it 10 stars if I could! Buy, buy, buy, and don't spend hours trawling the internet getting confused with all the other advice. This is all you'll need!
This book is so cheap and so helpful, stop reading reviews and just BUY it!
Check out this short sample from the professionally narrated Easy Peasy Potty Training audiobook: