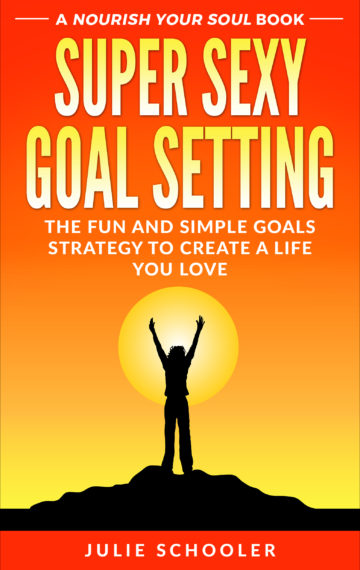 Published:

March 18, 2018
Amazon
Apple Books
Available From Your Favorite Store
The Fun and Simple Goals Strategy to Create a Life You Love
by Julie Schooler
Available to purchase on all good online bookstores, including:
Have your attempts at setting goals been too exhausting?
Are you sick of New Year's resolutions that go nowhere?
Does goal setting seem so serious and boring it puts you off completely?
This book overthrows traditional goal setting practices to help YOU to discover your 'super sexy' goals that will make your life exciting and meaningful once again.
Super Sexy Goal Setting will give you the simplest and most fun way to set goals that lead to a life you love.
This entertaining and easy-to-read book will also:
cut through the confusion so you can easily set goals that are perfect for you
tell you exactly what to do to work out your goals—even if you have never set goals before
provide compelling reasons why super sexy goals give you MORE time and energy (yes, really!)
We are promised that goal setting is an amazing way to transform our lives for the better, but it often seems like a hard chore that can often end in failure.
It doesn't have to be this way.
Super Sexy Goal Setting narrows the focus to just FOUR exciting and meaningful goals in a 12-month period. This book distills an avalanche of information and all the learnings from years of goal setting into simple and practical tips to help you write your 'super sexy' goals and then take action without the overwhelm.
Goal setting need not be boring, complicated or serious.
Four super sexy goals. One year. Your life transformed.
Follow the short, chunked down chapters in Super Sexy Goal Setting to:
know exactly how to determine what you want in life, not what you don't want
wake up each morning with a sense of excitement and zest for life
lead and inspire others to live life on their terms
feel like you are living the life you were meant to live, one with excitement, meaning and true joy
In less than a couple of hours this book will give you the exact blueprint that will make it effortless and exciting to discover and take action on your most desirable goals.
This is the most fun, stress-free and of course, SUPER SEXY book on goal setting you will ever read.
This is a short book but—and this is not said lightly—it will change your life.
Follow the simple strategy in Super Sexy Goal Setting and give yourself the best gift of all—a feeling of accomplishment in achieving exactly what you want in life.
What's stopping you from being the happy, energized and successful person you always thought you would be?
Don't wait until another year rolls by with failed New Year's resolutions! Add some much-needed clarity, direction and joy back into your life and buy this book in ebook or print today.
STOP THE PRESS! Check out the NEW Super Sexy Goal Setting Workbook. This WORKBOOK is a complete and unabridged version of the best-selling book, Super Sexy Goal Setting, with workbook additions. Throughout the workbook, there are sections with questions, prompts and plenty of blank lines. Ultimately, Super Sexy Goal Setting Workbook will guide you to write your super sexy goals within its pages.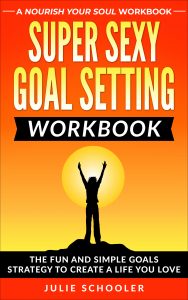 Super Sexy Goal Setting is part of the Nourish Your Soul series that shares delicious wisdom to help readers feel calmer, happier and more fulfilled.
Reviews
The author makes goal setting both fun AND practical. This is not your average dry read on how to create goals. It's lively and inspiring. Now that's definitely worth a few dollars and a couple of hours of your time.
Takes you by the hand, step-by-step, so even that by the end of the book even a goal-setting novice will have an action plan.