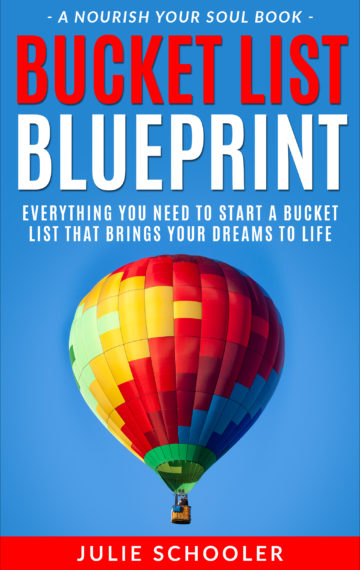 Published:

October 25, 2017
Amazon
Apple Books
Available From Your Favorite Store
Everything You Need to Start a Bucket List that Brings Your Dreams to Life
by Julie Schooler
Available to purchase on all good online bookstores, including:
Are you fed up with the same boring routine day after day?
Do you feel like there is a more exciting or meaningful life you could be living?
Would you like to start taking action towards your heart's desires today?
You need a bucket list – a written list of things you want to do before you die.
Bucket List Blueprint will give you practical advice to write the best bucket list personalized for your circumstances, and, most importantly, how to check off items so that you start bringing your dreams to life.
This entertaining and easy-to-read book will also:
cut through the confusion around what a bucket list is and is not (it is definitely not just for the terminally ill or nearly dead!)
provide compelling reasons why a bucket list is an essential part of life
tell you exactly what to do to discover items for your personal bucket list
This is the best book for anyone from 9 to 90 who wants to live a more fulfilling and fun life. There are tips and ideas that will suit any age, preference and budget–even if you have no money, no time and don't want to travel.
Bored? A bucket list will give you something to look forward to every day
Stressed? Your brand new bucket list will give you clarity and direction
Exhausted? Spring out of bed each morning with the newfound energy a bucket list can bring to your life
This book distills an avalanche of information plus insights from a challenge to check off 40 bucket list items in one year into simple and practical tips to help you write and take action with your bucket list.
This is a short book but–and this is not said lightly–it will change your life.
Follow the short, chunked down chapters in Bucket List Blueprint to:
rediscover long-held passions and understand your true self better
feel good about yourself for following through on goals
wake up each morning with a sense of excitement and zest for life
spend quality time with friends and family doing fun things together
feel like you are living the life you were meant to live, one with excitement, meaning and true joy
In less than a couple of hours this book will give you the exact blueprint to writing your own bucket list. Follow the simple steps in Bucket List Blueprint and you will give yourself the best gift of all–a fulfilling life.
What's stopping you from being the happy, energized and accomplished person you always thought you would be?
Don't wait until you almost 'kick the bucket' to read this book! Buy this book in ebook or print today and start living a breathtaking life where your long-held dreams turn into amazing memories.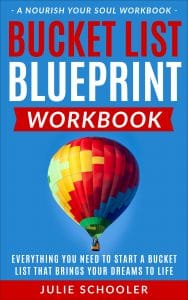 STOP THE PRESS! Check out  Bucket List Blueprint Workbook. This WORKBOOK is a complete and unabridged version of the best-selling book, Bucket List Blueprint, with workbook additions. Throughout the workbook, there are sections with questions, prompts and plenty of blank lines. Ultimately, Bucket List Blueprint Workbook will guide you to write your dream bucket list within its pages.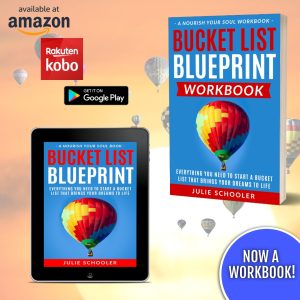 Bucket List Blueprint is part of the Nourish Your Soul series that shares delicious wisdom to help readers feel calmer, happier and more fulfilled.
Reviews
It seems as though the author was talking alongside me and coaching me in how to complete my very own awesome bucket list.
Inspiring, motivating and packed with ideas and practical tips, it is the ultimate guide to setting and getting the big hairy audacious goals that make your life an unmissable event.