A deadly new virus. Worldwide lockdowns. A race to find a vaccine. It sounds like a tag line for gripping Hollywood movie, perhaps starring Will Smith or one of the Hemsworth brothers. Instead it is a description of our real life. Of 2020. It is not a work of fiction but a reality show played out on news networks around the world.
As I write this, in December 2020, the world is dealing with the largest global pandemic we have seen in our lifetimes. The virus that has swept the world has driven dramatic changes in how we work, live and interact with others. People all over the globe have lost their jobs, their health and their lives.
I am one of the lucky ones. My family and I still have a roof over our heads and food on the table. But if you had told me at the start of this year that all the travel I had planned would be cancelled, I wouldn't be allowed to walk along my favorite beach, I would have to homeschool my children and couldn't hug people I loved, I would have laughed at the absurdity of it all.
It would be very easy to complain about 2020. Very easy to grumble not just about the pandemic but the overwhelming social, political and environmental issues. Instead, I am determined to be rebelliously happy because I do not believe I can help the world if I am miserable. One proven way to squeeze some joy out daily life is to focus on appreciation.
Here are three things I am grateful for in banana-pants crazy 2020…
1) Health
My family and I have been healthy and well for an entire year. There has been barely more than a sniffle between the four of us. Now this could be simply be a coincidence or good luck. However, I can't help but think that almost-compulsive hand washing and long periods of physical distancing may have something to do with the absence of even a minor cold.
2) Family
Talking about my family, I ended up spending more time with them than I usually would. We had a very strict lockdown here in New Zealand which meant for almost two months we were solely in our 'bubble' of four, required to be physically distanced from all others. For sure, this had its pitfalls – our four walls felt positively claustrophobic at times – but ultimately I feel even closer to my husband and kids. I hope, despite my terrible homeschooling efforts, that my children remember this surreal time stuck at home with a kind of fond nostalgia.
3) Becoming a Better Me
As I said, I feel extremely fortunate but 2020 has still brought a number of negative effects. Cancelled plans. Unexpectedly having to homeschool. Not being able to hug my mama. Writers block. Financial stress.
And, somehow, I dealt with them all.
I navigated hard emotions from disappointment to fear. I homeschooled on my terms.  I quickly learned to video message my family and friends. When I felt like I couldn't write, I created videos instead. And I started a budget and carefully monitored outgoings.
This year is about what happens when you don't get what you think you want and instead get what you need. No one would wish for this but when we look back on this time, we will be full of pride and awe at how strong we can really be.
What are YOU Grateful For in Banana-Pants Crazy 2020?
These three things I am grateful for in banana-pants crazy 2020 are the simplest things in life – health, family and becoming your best self, despite – or because of – hardship.
What three things are YOU grateful for in 2020? Are you happy that there have been environmental benefits to less travel and mass gatherings? What about the dedication and hard work to produce a vaccine? Perhaps you no longer take for granted essential services such as food production, garbage collection and 21st century medicine. The internet? Binge watchable TV? The proliferation of funny memes? Changes in political landscapes? Being around your family more… or less?
It doesn't really matter what you decide you are grateful for; it is the gratitude exercise itself that is important. Focusing on even a touch of thankfulness will add a little sparkle into your day.
Even though you can see the benefits of appreciation, you may still find feeling grateful in 2020 excruciatingly difficult. If so, here is something we can all agree on – that this year, on no account, can be described as dull. It is so extraordinary, in fact, that sooner or later, we will all be watching a film that portrays our current banana-pants crazy life.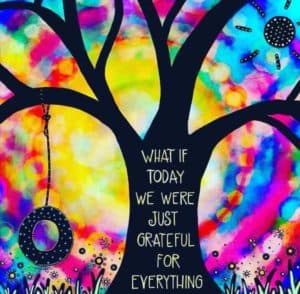 If you liked this blog post, you will enjoy these ones as well:
3 Positive Upshots from a Global Pandemic
3 Fun Gratitude Practices to Incorporate into Your Day
Want to feel in control and be your best self in this banana-pants crazy world? Check out my latest book, Embrace Your Awesomeness.