It is late April 2020 as I am writing this blog post. The global pandemic of coronavirus and the disease it causes, known as covid-19, has so far infected millions and killed thousands of people all around the world.
The response here in New Zealand has been an almost total lockdown that has so far lasted a month. A nationwide quarantine that has resulted in a significant change to our daily lives. Schools are shut. Businesses are closed. We are to keep our distance from others not in our immediate 'bubble' at all times. And we have been strongly urged to say at home and only venture out locally when absolutely necessary for essential supplies or fresh air. This severe restriction of our freedom is expected to go on for weeks, if not months.
If you had told me at the start of the year, that this would happen, I would have laughed it off. This was the start of a new decade. A time to dream big and succeed. I had set some exciting goals including travel to destinations that had been on my bucket list for a long time.
Now, not only is the travel not happening but there is serious health, family and financial concerns for ourselves, our loved ones and many people here and around the world.
All of this is my way of saying that I am not, for a second, underestimating the seriousness of this situation. But I, for one, have a desperate NEED to get some light relief from it all.
Here are three positive upshots from a global pandemic…
1) Global Pandemic Upshot – More Social Interaction
Even though we are to keep well away from others, the global pandemic has led to more social interactions than I usually have. I guess it is because it gives us a mutual enemy of sorts, or at the very least, something in common to talk about.
My mama has worked out face-to-face calling without instruction or prompting, which in itself, is astounding. Now she is voluntarily in self-isolation, I talk to her more than ever, a second miracle.
I have reached out to some of my friends located around the world. Although the global pandemic is not something any of us wanted, it gives us a chance to touch base with distant friends to see how they are coping. It has been nice, in a weird way, to have an excuse to catch up.
A couple of weeks ago, my neighbors invited those close by on our street to driveway drinks, a first in the six years since we moved in. Although we had to yell across or down the road to have a chat, it has brought the neighborhood closer together. And it may never have happened without the global pandemic.
2) Global Pandemic Upshot – Uncovering Cool Things
Without the global pandemic, I would have stayed reading, listening to and watching the same things I normally do. Now that I have a craving for anything lighthearted and eagerly want to find new ways to entertain the kids, I have greatly expanded my digital consumption.
Here is a small selection of new favorites (links at the end of this post):
The Aotearoa History Show – I have learned so much about New Zealand history in just a few short episodes (some content may not be appropriate for younger children)
Robbie Williams singing live 'corona-oke' on Instagram most days – this always puts me in a great mood (note that he can often be a potty mouth so use discretion around kids or those easily offended)
Some Good News with John Krasinski on YouTube – a brand new and rebelliously happy response to the global pandemic
Dolly Parton reading picture books from her Imagination Library – the Internet just does not get any better than this!
3) Global Pandemic Upshot – Just Starting Something
I have been thinking about doing more video, perhaps some Facebook Lives or starting a YouTube channel, but I hadn't done anything about it. I wanted to have something important or inspiring to share. I wanted to look nice on camera. I wanted to know more about creating videos so I would do it 'properly'.
Instead, when all the shemozzle starting hitting the proverbial fan on March 20th, which happened to be International Happiness Day, I picked up my phone, pressed the red video recording button and started talking. And just like that, daily episodes of 'Bite-Sized Sparkle' were born.
At first, Bite-Sized Sparkle was a creative outlet when I felt completely unable to write. But now it is more than that. As I just said on a recent episode, this global pandemic has moved us all out of our comfort zones so it is the perfect opportunity to try something new. Why wait? Trying to line up all my ducks in a row before starting, I now realize, was just my fear talking. Putting myself out there has been scary but also far more rewarding than I ever thought possible.
Rebelliously Happy
This is a grim time, but so far, this global pandemic has brought me more social interaction, cool things to read, watch and listen to plus an opportunity to start a fun – albeit rough around the edges – way of expressing my creativity.
Despite what is happening around the world, my hope is that we can create a rebelliously happy movement. After all, as Oscar Wilde said, 'life is too important to be taken seriously'.
I hope you will join me.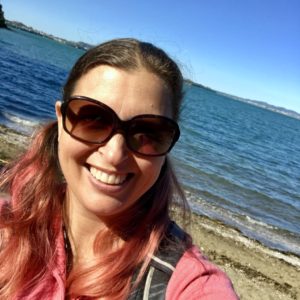 Check out my Bite-Sized Sparkle Videos via my 'New' page or directly on YouTube
The Aotearoa History Show on RNZ
Robbie Williams on Instagram
John Krasinski's Some Good News on YouTube
The Imagination Library's Goodnight with Dolly