In May 2021 I attended the Auckland Writers Festival with over 60,000 others. I went to a number of writers talks including not one but two by award-winning author, Neil Gaiman.
Now, in November 2021 after three months in a Delta variant induced lockdown, the writers festival seems like a dream. Partly as a nod to a nostalgia of a normal life and partly to add a little sparkle into your day, I have decided to bring alive my memories from Neil Gaiman's talks in the form of a blog post.
Here are three lessons about art, community and life from Neil Gaiman at the 2021 Auckland Writers Festival…
1) Neil Gaiman on Art
Don't apologize for your art, especially not how you make it. For example, never feel guilty about getting parts of your writing from somewhere. We all ladle bits from the giant pot of 'story stew'. Simply mix it up to make it your own.
And especially don't feel bad about needing art in your life. It may even feel frivolous at the moment. However, Neil Gaiman argues that fiction, with its emphasis on connecting emphatically to characters, is more important than ever in these crazy, pandemic times.
2) Neil Gaiman on Community
Civilization feels quite fragile at the moment. Every day is another crisis point so what we need more than ever is really good friends. Gather whoever you can around you that you know you can trust. Check in with people. And offer any small kindness you can give.
3) Neil Gaiman on Life
Neil Gaiman tries to look at life with positivity and cheer. This sounds impressive but being lighthearted involves extraordinary boundaries. For instance, vitriol from online trolls can cut into your cheer if you are not careful about whose opinions really matter to you.
Freelance Religion Designer
The 2021 Auckland Writers Festival had a variety of wonderful writers talks. I especially enjoyed absorbing lessons about art, community and life from Neil Gaiman.
These lessons can be summed up in the answer Neil gave to a question of what he wanted to do with his life. He said he has to keep being a writer as the job of 'freelance religion designer' does not exist… well, not yet anyway.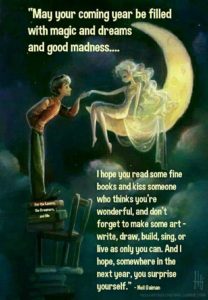 If you liked this blog post, you may also want to read 3 Lessons about Art, Community and Life from Amanda Palmer at the 2021 Auckland Writers Festival
Check out these videos, websites and resources:
Amanda Palmer and Neil Gaiman Interview at the 2021 Auckland Writers Festival – watch the whole thing but especially the duet in the first 10 minutes