In May 2021 I attended the Auckland Writers Festival with over 60,000 others. I went to a number of writers talks including not one but two by musician, artist and author, Amanda Palmer.
Now, in October 2021 after two months in a Delta variant induced lockdown, the writers festival seems like a dream. Partly as a nod to a nostalgia of a normal life and partly to add a little sparkle into your day, I have decided to bring alive my memories from Amanda Palmer's talks in the form of a blog post.
Here are three lessons about art, community and life from Amanda Palmer at the 2021 Auckland Writers Festival…
1) Amanda Palmer on Art
Place value on art – and the artists who make it – as much as you would anything else in life. Wherever you can, support your favorite artists. Tell them their art has touched your life, share it with friends and pay artists for their creations. Ask artists about their art, not just about other parts of their life like work and family.
Amanda Palmer offers art now that she thinks will serve humanity. It may not make people happy but it will definitely touch them in some way.
2) Amanda Palmer on Community
Amanda Palmer has built a community of engaged fans and Patreon supporters over time. She notes that if you have supportive patrons, you can get on and do the work, that is, make your art – without the middlemen and institutions.
This is a real community where her fans and patrons get as much out of being around others that like the same thing as the art she makes. It wouldn't work otherwise.
She notes that there is no such thing as the perfect audience. Focus on your people, the ones that get you. Relationships are just as important as the art.
3) Amanda Palmer on Life
No writing about Amanda Palmer would be complete without reaffirming one of her main points about life – ask for what you want. Directly asking for help is not begging as there is no assumption you will get what you ask for. Always ask in a civilized manner that creates a two-way relationship.
She does admit that asking can be frightening as there is a very real fear of rejection but we all must try. As she says in her best-selling book, The Art of Asking, 'take the donut'.
Please Learn the Ukulele
The 2021 Auckland Writers Festival had a variety of wonderful writers talks. I especially enjoyed absorbing lessons about art, community and life from Amanda Palmer.
These lessons can be summed up in one tiny request from Amanda herself – please learn how to play the ukulele.
Why not? I will give it a go if you will.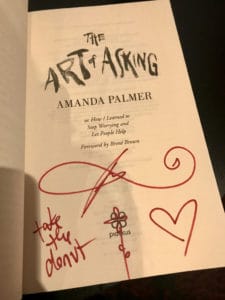 If you liked this blog post, you may also want to read 3 Lessons about Art, Community and Life from Neil Gaiman at the 2021 Auckland Writers Festival
Check out these videos, websites and resources:
Amanda Palmer 'The Art of Asking' TED Talk
Amanda Palmer Interview at the 2021 Auckland Writers Festival
Amanda Palmer and Neil Gaiman Interview at the 2021 Auckland Writers Festival – watch the whole thing but especially the duet in the first 10 minutes