Best-selling author, Elizabeth Gilbert said in her Magic Lessons podcast that creativity is an irrational act. Essentially you are saying that you are going to take the single most valuable commodity you have—the irreplaceable currency of time—and devote it to making something that nobody wants, that nobody asked you to do, that nobody is waiting for, that might not work, and that you might not even like. Why in the world would you do that?
Creativity is far from self-indulgent or trivial. There are actually many noble reasons to create. Deciding to embark on a hard, challenging or passion-fueled task taps into that inner child in all of us. In the throes of creativity, we can't help but be in a flow state, be really present, a rare occurrence in these days of constant distraction. And creating something tangible is reassuring. It allows us to meet ourselves once again.
However, if those reasons still don't encourage you to create, then don't do it for yourself. Do it for others. You never know who your project will touch. Sure, I hoped my first book would help readers, but if someone had told me about the other unexpected gifts that would come from embracing my creativity, I would have dismissed their outlandish claims outright.
Here are three unexpected gifts from embracing my creativity…
1) The Bracelet
After I wrote my first couple of books, I was invited onto a virtual summit with a number of other women from different fields. A friend of mine, Georgie, inspired as a result of watching another interview, decided to start her own creative venture. As a thank you, she gave me a gorgeous crystal bracelet that she now makes as part of her business, Elegant Empowerment.
Of course, Georgie would have likely started her business anyway but the summit interview was the final prompt she needed to take the leap.
Think about this for a second. Embracing my creativity somehow helped a friend to start a business.
2) The Chocolates
They say finding an editor is like dating and that it may take a while to find the right one. Using this analogy, finding my editor was like love at first sight. Kate has stuck with me since the start, even when I moved from writing about parenting to self-help. And for every single book, she has provided exceptional editor skills. Having a working relationship I can count on is, in itself, an unexpected gift.
Out of the blue, a couple of years ago, I was received a box of chocolates and a beautiful note from my editor. The chocolates are not available here in New Zealand, which made them extra special. I kept them for quite a while until my kids wore me down and we all gobbled them up.
Think about this for a second. I was sent a box of chocolates from the other side of the world because I embraced my creativity.
3) The Song
My neighbors are singers and song writers. I hear live music as I tap on my keyboard. If I saw them in the street, they would always ask me about my latest blog post or enquire when the next book was out. I thought they were simply being neighborly.
Then they sent me a song that they wrote about me! Not just the lyrics, they recorded it and everything. A song. A little ditty. Sung about me!
Think about this for a second. Embracing my creativity prompted my neighbors to embrace their creativity too.
The Most Unexpected Gift
Creativity may seem irrational or self-indulgent but it is actually the best reflection of your unique self. You may never know the impact of your creative project. Sometimes, however, you get tangible proof that your creativity means something to others. Because I embraced my creativity, I received a bracelet, chocolates and a song.
When I started writing my first book, I knew no other authors. After a little while I realized there was a thriving author community out there. I started following writers online and making author friends over the Internet. A year or so after writing my first book, through a series of small world co-incidences in the author community, I managed to get in touch with a long-lost friend, someone who is not an author herself.
This friend had been a big part of my life but unfortunately, I had lost contact with her after she moved away. I had occasionally looked her up online over the years to no avail.
When we finally got in touch over an updated email address— which was amazing enough—she informed me that she was visiting New Zealand for the first time in years in just a few weeks' time. We reunited in person over a long dinner and filled in the past ten years of our lives. It was, quite simply, wonderful. And it may never have happened if I hadn't embraced my creativity.
Sure, this was an extremely convoluted and strange small world story. Maybe you won't meet up with a long-lost friend. Just be open to any and all unexpected gifts that come about from embracing your creativity.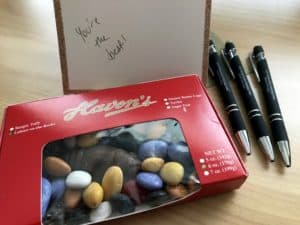 Check out my song and other fun stuff at julieschooler.com/fun
Creativity is one of the awesome tools I discuss in my my brand new book: Embrace Your Awesomeness