Many people are surprised when I tell them that creating my children's picture book, Maxy-Moo Flies to the Moon, was more of a challenge than writing and publishing my other 9 books combined.
They always ask how can writing 500 words on a work of fiction for kids be far more difficult than a 25k+ word, thoroughly researched non-fiction book for grown-ups?
I wouldn't have believed it myself if I hadn't gone through the process of writing it, finding an illustrator and compiling the picture book together.
Here are three things I wish knew before creating my first children's picture book …
1) The Writing
I knew I wanted to write a rhyming picture book as many of my favorite picture books, such as Margaret Mahy's Down the Back of the Chair were in rhyme.
Anyone can rhyme; kids are especially good at it. But to rhyme exceptionally takes a lot of effort. And the rhyme in children's picture books should not just be outstanding, it should be perfect. Even on very popular picture books this rule does get broken: in the best-selling and beloved book, Giraffes Can't Dance, "violin" is rhymed with "thing". But rhyme perfection should always be the goal.
However, perfect rhyme is not enough. These books must also have constant and consistent rhythm. I had absolutely no idea about rhythm, stress and meter before I started creating my first children's picture book. I did read a bit of Shakespeare in high school but never understood what all the fuss was about. Tackling my first picture book meant working out what meter the first line of my book was in and taking that through to the very last line. And that meant reviewing every single word and syllable for how it sounded. I ended up writing Maxy-Moo Flies to the Moon in iambic pentameter or it could have been in trochaic hexameter, I am not exactly sure now. I just know that the meter is consistent throughout the book (well excluding the middle climax page where I made an allowable exception).
All this is actually putting the cart before the horse. Like all writing, it is the story and the characters that are the most important aspect. I did know this before starting the endeavor. What I didn't know was that the character had to be really memorable, that each page in a picture book must have action on it – at least one verb – something to draw a picture around and that the book has be engaging enough to make a small child want to turn every page. All this is a tall ask when you add perfect rhythm and rhyme to the mix.
It took me many months of revisions, manuscript assessments and beta reader feedback to get the written manuscript as good as it could possibly be. I thought the rest of the project would be a walk in the park. How wrong I was.
2) The Pictures
Even though writing a rhyming children's picture book was difficult, I knew I had the talent and skill level required to do it. Not so with illustrations – my children draw better than me. When I started the project, I knew I would be outsourcing the pictures part.
The first thing I did not understand was all the terminology around color and drawing. I had never heard of RGB versus CMYK color models and didn't know that the eBook version of the picture book must be done in RGB but the print book could and should be done under CMYK. Also I had to make sure the print version was in at least 300 DPI (or was it PPI?), whatever that was.
I also had no idea about the different types of illustrators nor indeed what I wanted in terms of style for the illustrations. I just knew what I liked. Illustrators can work with digital tools or use traditional methods like watercolor or combine a mix of both. They can draw manually and then convert to a digital picture or draw directly into a digital program.
Which led to finding an illustrator. There are a lot of freelance sites but I chose Upwork as that is where I found my editor. I described what I wanted (full copyright and ownership of the artworks) and what I was willing to pay (hundreds but not thousands) and was gob smacked by being inundated by hundreds of replies from all around the world in the space of a few days. Whittling responses down to a top 20 and then a top 5 took far longer than I expected. I then chose one illustrator and decided after the first couple of illustrations that the pictures were not what wanted after all. We parted and I was fortunate to secure the amazing Catty Flores.
Communicating with my illustrator was something we had to work through. I did not know how much guidance I should give her. I wanted the main character, Maxy-Moo to have blonde hair but what would the other characters, the moon or the animals look like? I made some mistakes such as not asking Catty to add the "shy giraffe" in one picture. I tell the kids I read my book to now that the giraffe is so shy that she is hiding! In the end, with a lot of back and forth, I am delighted with Catty's illustrations, especially the conga line that literally goes around the moon.
3) The Format and Design
So I had the manuscript and I had the illustrations but what I wish knew before creating my first children's picture book was that, as an independent author, I would somehow have to find a way to marry the two together.
I thought about teaching myself Photoshop or InDesign but I wanted a beautiful picture book that would be indistinguishable from a traditionally published children's book. My talents in this area would only stretch so far. I needed outside help. Fortunately I discovered Karen Inglis and her helpful blog posts through an interview on The Creative Penn podcast. Using Karen's advice, I got in touch with Doug and the team at Lighthouse24 who helped format and design the book.
Most picture books are 28 pages and so I had split the story into 14 sections with a picture for each. First, I needed to choose the size and shape of the book. I chose a square size, different from all my other books. Then I worked with the Lighthouse24 team to sort out the size and type of the font and where it would sit on each page. As Maxy-Moo Flies to the Moon is my only book currently in hardcover, I had additional items to sort out for it, such as the writing on the spine.
The final product was so much better than I ever dreamed it could be but it came at a cost of many hours of my time and hundreds of dollars spent.
ROI on Creating My First Children's Picture Book
Children's picture books are fun, joyful and make it easy for kids to love books. What is there not to like about them? I firmly believe the world cannot have enough children's picture books. I have made it no secret that I definitely want to make more books for kids.
However, creating Maxy-Moo Flies to the Moon was incredibly challenging and almost put me off making any more. What I wish knew before creating my first children's picture book was that it would take a myriad of time-consuming and expensive decisions around writing, pictures and formatting the book.
In a purely financial sense, I have not actually got a return on investment (ROI) from Maxy-Moo Flies to the Moon. However, I have been fortunate to read the book to my local kindergarten and school and to place it in the Auckland city libraries. Every time I see a smile on a child's face that I read to or receive feedback that Maxy-Moo Flies to the Moon is a favorite go-to bedtime story, that is a return on investment for me.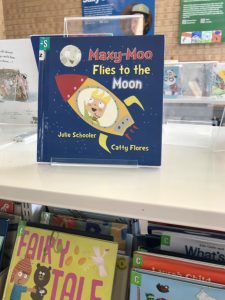 Children's Book Authors Who Have Helped and Supported Me
Childrens' Picture Book Writing Resources
Children's Picture Book Illustration and Design Resources