Everything seems so intensely somber at the moment. Sure there is a deadly pandemic still raging, more people in slavery than any other time in history and, well, climate change but where has the all the fun gone?
It's so easy to feel down about it all. Please don't numb or ignore these feelings. If you are feeling sad or mad or scared, then feel those emotions. But there is no need to marinate in them just because it seems like the cultural norm.
Feeling a bad emotion should be the same as stubbing your toe—intensely painful and all-consuming at first and then fading to less painful so that soon you forget what that pain even felt like. Give yourself permission to feel the feeling and gracefully let it go.
Then make a conscious decision to be rebelliously happy. The best way to do this is to assemble a toolkit that helps you to reset to a happier state fast. Take some deep breaths, smile for no reason and relax your tongue for starters. Did that help? Good. But let's do even better and dive into the ridiculous.
Here are three silly ways to rediscover your sparkle in less than 5 seconds…
1) Hug Yourself
As of the time of writing, hugging others is still regarded as a little on the dangerous side due to the pandemic so instead, give yourself a cuddle.
Yes, actually stop reading this, wrap your arms around each side of your body so that your hands rest on your back just below your shoulders and your elbows stick out in front. Then gently squeeze. I like to take a deep breath and smile when I do this. How did that feel?
Sometimes it is simply too hard to be happy by strenuously trying to pivot our thoughts and emotions. Luckily, there is a shortcut to rediscover your sparkle in less than 5 seconds. Get into your body and out of your head. The body has its own mechanisms for making you feel less stressed, more energetic and happier. Think about it for a second—your body wants the best for you; it wants you to be physically and mentally healthy. You need to listen to it and tap into its innate wisdom.
Give yourself a hug. You'll look weird but you'll feel good.
2) Say Bubbles in an Angry Voice
Nobody, not a single soul on the planet, can be sad or frustrated while saying 'bubbles' in an angry voice. Try it right now.
Yes, actually stop reading this, and screw up your face into the look of rage you have when a driver cuts you off without indicating and then spit out the word "bubbles" in your loudest, most angry voice. Do it. I will wait. Bonus points if you are in a public place with people around. Triple points if you are in a library. How did that feel?
Another way to bypass your negative tendencies and rediscover your sparkle is to find language that is positive. Sure, this quick-fix is not like the typical advice to change 'should' to 'could', 'I have to' to 'I get to' and asking empowering questions but it enormously fun.
Say bubbles loudly in an angry voice. Go on. You know you want to.
3) Give Someone a Compliment
Think of an over-the-top, enthusiastic yet genuine compliment and unleash it onto the next unsuspecting person you talk to. Don't say their hair looked nice or they did a good job. Tell them that their hair looks better than a shampoo commercial or they absolutely nailed that management report. In fact, try it now.
Yes, actually stop reading this and give someone an extravagant compliment or jot one down for later. Even thinking about the compliment you will give in the future adds sparkle back into your day. How did that feel?
Not sure what to say? Appearance, skills and work are all areas that can be complimented. Stick to people you already know, keep it short and be honest. Tell your mother she smells lovely, not a stranger on the bus.
Getting out of your head by thinking about others is another way to rediscover your sparkle in less than 5 seconds. Don't underestimate the power of kindness. I still clearly remember a friend giving me an unexpected and sincere compliment a few years back.
Pay someone a compliment today.
Rediscover Your Sparkle Fast
These three quick happiness resets – hug yourself, say bubbles in an angry voice and give an over-the-top compliment are, of course, not a panacea for all the world's woes. I know that. You know that. But why not try these three silly ways to rediscover your sparkle in less than 5 seconds?
If you can take a shortcut to being rebelliously happy why would you travel the long, miserable road?
As Oscar Wilde said, "Life is too important to be taken seriously."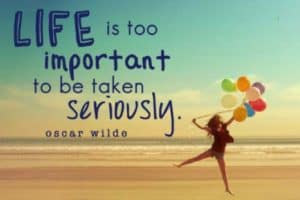 If you liked this blog post you will LOVE LOVE LOVE my books Rediscover Your Sparkle and Crappy to Happy.
You may also want to read these blog posts:
3 Happiness Habits Guaranteed to Bring Cheer to Your Day