It felt like a kick to the gut to see a two-star review on my book, Find Your Purpose in 15 Minutes. I didn't read the review at first, just noted the two-star rating which on the 1 to 5 rating scale can only be described as pretty dismal.
The two-star review was left at the start of the year. The intervening months have given me time to reflect on my knee-jerk negative emotional reaction to it. Surprisingly, I have done a complete turnaround and decided I like this so-called 'bad' review. No, I love it.
Here are three reasons why I love this two-star review…
1) A Two-Star Review is Still a Review
It is still a review on my book! As an author, reviews are of utmost importance. They provide social proof that people like and recommend the book, or at least are buying and reading the book, as in this case.
Many people don't read single reviews but check an overall rating and are usually satisfied if it averages higher than three or four stars. In fact, as long as there are some four and five-star reviews in the mix, a few reviews at the lower end make the book seem more legitimate as a range of readers have all left reviews.
Overall, more book reviews mean more book sales which means I can write more books. Every single review is valuable to me. I am always asking for more reviews and I can't expect them all to be good. All I ask is that they are helpful and honest.
2) The Two-Star Review was Helpful and Honest
And what do you know? The review was helpful and honest. The extremely thoughtful review didn't attack me as an author, my writing, or even the book itself. It just explained that the whole premise of Find Your Purpose in 15 Minutes, that you could find your purpose in, er, 15 minutes, didn't suit them as a reader. That is absolutely fine. We can't all like the same things.
It actually provided some constructive feedback that I can incorporate into future book projects. It noted that some of the examples were too similar and perhaps the book went into too much detail at the beginning. Good to know.
3) This Two-Star Review was from Germany
The reason I didn't read the review at first was because it was it was written in German. I had to figure out a way to translate it to English. Amazon does have this feature now but Google Translate was also useful.
Think about this for a second. A complete stranger on the other side of the world bought my book, Find Your Purpose in 15 Minutes on the Amazon Germany store, read it and proceeded to review it in German.
There are so many cool things about that, I don't know what to say. I mean, for starters, my book is only available to read in English!
Five-Star Response
At first, seeing a two-star review of one of my books was hard to take, but now I love it. It added to the total rating count for Find Your Purpose in 15 Minutes, it was well thought-out and the fact that it was from Germany shows that my books are sold all over the world.
I do understand why other writers have a 'I never read reviews' policy. It would help them to focus on the writing at hand, not distract them with things they have little control over and would avoid emotional distress over a negative review.
However, whatever the star rating, I do believe book reviews are useful and I will continue to read every single review on the books I write.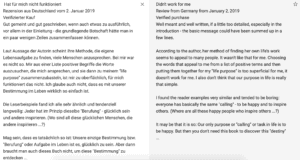 Find Your Purpose in 15 Minutes on Amazon.com