Need a Dose of Fun, Love and Energy?
Are you feeling lost, despondent, out of control, tired and overwhelmed, especially after the events of the past year?
You don't need to struggle alone anymore.
Despite being the author of Rediscover Your Sparkle, after the craziness of the last 12 months, I have to admit that I have lost some of my inner sparkle.
I had to find an exciting new way to ingrain sparkle habits from my own book!
So I created something really unique and special and I would love for you to be part of it.
It's the very first, brand spanking new…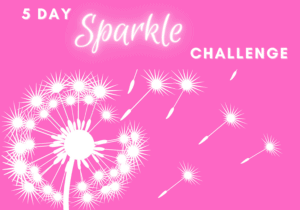 Benefits of the 5 Day Sparkle Challenge
Over the 5 Day Sparkle Challenge, you will have everything you need to rediscover your sparkle including:
A 3-minute, amazingly calming meditation exercise
How to feel in control and in touch with your core self
Fun gratitude practices that the whole family will enjoy
Random acts of kindness you can do without leaving the house
The energy to bounce out of bed each morning with a zest for life
Uncovering how breathing the right way can change your life (yes, really!)
Reminders on how you can notice and lean into the joy in ordinary moments
Watching me on video in a mullet wig (!)
By the end of the 5 days we will be so fill of sparkle we'll all be shimmering!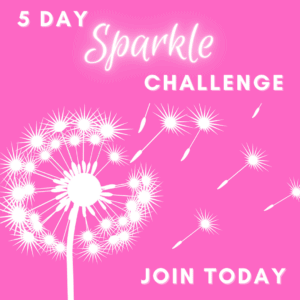 Do You Want Your Sparkle Back?
The 5 Day Sparkle Challenge is currently closed for enrolment.
If you want to be the first hear when it happens again, subscribe to Julie's sparkly emails.
I promise that by the end of the challenge you will feel better than you have at ANY time in the past year! 
Sparkle Challenge Song