A few months back, I discovered that a place that ran fun, one-off painting classes which included full instruction, taking home your finished artwork and a glass of wine was situated just up the road.
I always felt like I was hopeless at artistic endeavors. My drawings are on par with my seven-year-old, Dylan's pieces. I resigned myself to channeling my creativity into writing and leaving other arty pursuits to the more talented.
There was no way, even under the best schooling, that I would produce a painting anything like the canvas displayed, yet I was intrigued and wanted to sign up. Plus – the (very reasonable) price tag included a glass of wine. I was sold. Last Friday, a couple of my friends and I finally managed to attend the two-hour class.
Little did I know that the art class would reap positive outcomes on a deeper level.
Here are three valuable benefits of art class (even if you are not artistic)…
1) Art Class Creates a Flow State
Without preamble, the lesson started. And within a few minutes of adding the first colors to our canvases, my friends and I commented to each other on how calm and centered we felt. After racing out the door, leaving dishes and still-awake kids behind, indulging in a creative venture with a glass of wine in hand, would of course feel pretty good. But it was more than that and I recognized it almost immediately: we were in a state of flow.
Flow occurs when you are absorbed in a task that requires concentration and ability that is just at or above your current level, so you are neither bored nor frustrated. As the pace of the class left little time to worry about painting to perfection, it was neatly timed to create flow.
Time seems to pass by quickly, and the outside world disappears for at least a few minutes, sometimes longer. You gain skills, achieve goals and feel in control while in flow, which leads to growth and, in turn, happiness.
I knew how important a flow state is but that is not why I signed up to the art class. However, it turned out to be valuable benefit number one of the evening.
2) Art Class is an Opportunity to Play
I primarily went to the class as it was a good chance to play. I have rediscovered just how vital play can be. Play is so easily neglected. The thought of play can actually stress people out as it means things – important, serious things – are not getting done! We all can agree we've enjoyed playing in the past but now we are grown up it seems like a waste of time.
Even though researchers such as Dr. Stuart Brown from the National Institute of Play argue that we have a biologically programmed need for play and have listed its benefits from fostering empathy to triggering our creativity, we tell ourselves that playing is not as important as our mile-long to do list. But the risks of not playing are far greater: Dr. Stuart Brown argues that the opposite of play is not work but depression.
You don't have to play for long to achieve its benefits. Charlie Hoehn points out in his fabulous book, Play it Away that if you dedicate 30 minutes per day to play, that only adds up to 2% of your week. The art class, at just two hours long, didn't even take up that tiny amount of time. I wasn't there to create a masterpiece. I didn't care about what my painting would look like. The lesson was simply a good excuse to do something fun.
3) Art Class Allows Creativity
The art class was also an opportunity to create. To use my hands and actually produce something. I am learning from my children just how valuable creativity, especially in a physical way, can be.
Kids innately love being creative and they never worry (until they are older) whether what they are creating is 'good' or not. The simple act of creating something is enough. In the past couple of years, Eloise has produced dozens and dozens of paintings and we now have boxes of Eloise's artwork stored away. I don't think Eloise, at four, would care whether we kept any of it. She has had a good time producing the art and giving it to us to look at and now she has moved on to the next creation.
Whenever I am struggling over my writing (which is frequently), I try to take this reminder about creativity on board – it doesn't matter whether it is good, whether it is displayed or what happens to it – the act of creating something is a gift that only us humans have been given. We should cherish any time we get to be creative.
Sign Up Today
Taking an art class may seem frivolous, but in fact, it provided valuable benefits such as getting into flow state, allowing me to play and triggering my creativity in a material way. No wonder I enjoyed it so much.
There is one other reason it was such a good evening – I shared the experience with a couple of friends. No other factor in positive psychology research has been linked to increased happiness more than good, close, loving relationships, so grab a couple of mates and sign yourselves up for an art class near you today.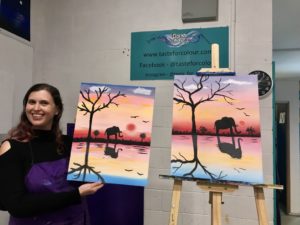 Local art class in Birkenhead, Auckland: Taste for Colour
If you want to read more about flow check out my book, Crappy to Happy. And if you like the idea of play, read up on how to fit it into your life in Rediscover Your Sparkle.