The sign said 'Laughter Yoga and Chocolate Tasting' along with 'Bring a Friend for Half Price'. Well they had me at laughter yoga. The chocolate and a chance to share the experience with a friend were just bonuses.
You see, when I arranged to check off 40 things on my bucket list in one year in 2016, laughter yoga made the long list but somewhere along the way had been cut out of the final 40. Now, right here at the local yoga studio, was an opportunity to finally check laughter yoga off my bucket list.
A combo of laughing and yoga sounded fun but as I knew nothing about laughter yoga other than liking its name, I started to fret as the session drew closer. I began to worry that I was going to be cajoled into laughing in a fake way. I was also concerned that I would look too silly or it wouldn't 'work' for me. Turns out, I was in capable hands and all my apprehension was unwarranted.
Here are three misconceptions that shouldn't stop you trying laughter yoga…
1) Misconception: Laughter Yoga is About Fake Laughing
I have to admit that I really don't like the idea of being made to laugh. I like to laugh, sure, but I want my laughter to emanate naturally, to bubble up as a response to something I find funny. Fake laughing reminds me of canned laughter added to cheap sit-coms and I didn't want to be coaxed into it, no matter how much chocolate was on offer.
Luckily, laughter yoga is not about inducing fake laughter. Instead, it is a series of exercises that simulate the body into breathing and moving as you would do if you were laughing for real. Your body thinks it is laughing even if you are not actually laughing. What ended up happening during the class was the instructor's infectious cheerfulness or a remark from one of the other participants would set me off into a real, hearty, belly laugh.
At the end of the class when we were told to relax, it was like being at a teenage slumber party – the genuine chuckling and natural giggling went on for ages. It was like our bodies wanted to release all the remaining pent-up laughter inside and now we were in a perfect situation to allow it to happen.
2) Misconception: Laughter Yoga Makes You Feel Too Silly
Laughter yoga does feel downright silly. But not TOO silly. It was just plain, good old-fashioned fun, something I think we all need more of. As grown-ups we get very little chance to be truly silly anymore, except perhaps when playing with our kids. I say we should embrace a chance to be silly if it presents itself.
Amongst a group of (mostly) strangers at laughter yoga is probably the best place to let your hair down. It felt amazing to play around in such a safe and non-judgmental environment. Where else can you clap, pull faces, spout ridiculous mantras or frolic around the room without people staring.
I did feel enormously silly at times, but from the looks of it, everyone else did too and that was comforting.
3) Misconception: Laughter Yoga is Pointless
There is an art and a science behind laughter yoga that demonstrates it is an extremely worthwhile pursuit. It encourages deep breathing and belly laughter with their associated benefits of lowering stress and feeling better connected to your body.
Plus, the practice allows you to remember that you don't have to respond to something to laugh, that laughter is within you at all times and you can access it whenever you want to.
I read up about laughter yoga afterwards. Studies have shown that a laughter yoga practice is associated with improved pain tolerance, better immunity and lower rates of depression among many other positive outcomes. It may come across as frivolous but laughter yoga has serious aim of promoting world peace.
LOL
Laughter yoga has a few misconceptions including that it may seem fake, silly or pointless but it is fact a down-to-earth, fun and meaningful practice.
All I can say is how I felt immediately afterwards (yes, before I stuffed my face with chocolate) – like I had simultaneous gone for a brisk walk while watching a very funny sitcom episode or stand-up comedy clip. I felt reinvigorated. I felt alive. And to that end, I will say, what was taught to us during the laughing yoga session: "very good, very good, yah!"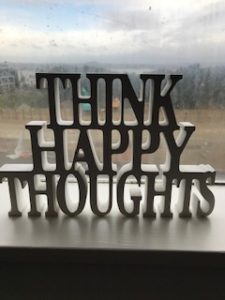 Check out my book, Bucket List Blueprint for more great bucket list ideas.