It's the start of 2020 and there is much talk about setting goals for the decade ahead. Think of where you want to be in by 2030. Write out your biggest, hairiest, most ambitious goals (BHAGs). Take action right now on your long-term aspirations.
I don't know about you, but it all just makes me want to take a nap!
Ten years ago, I wasn't married, I had no kids and I worked full-time as an accountant. This year we will celebrate our tenth wedding anniversary, probably by trying to escape our two beautiful tiny humans for a night. And instead of counting numbers, I have been counting words. In the past four years, I have written and published nine books. The life I have now is beyond even my most radical dreams.
We live in a world of smart devices and Instagram influencers and virtual reality that looks almost too real. In fact, some of the biggest Instagram influencers you can follow on your smart device are digital creations! I simply can't imagine what the world and my little corner of it will be like in ten years.
Let's scrap these grandiose ideas and focus on something we can control – how to spend our time on the extra day we have been gifted on this leap year.
Here are three easy ways to make February 29th your best leap day ever…
1) Leap Day Idea – Try Something
When I wrote out my Top40 Bucket List, there were a number of things I tried that didn't take much time, money or effort including stand up paddle boarding, a curling lesson and a powerhoop class. I have never done any of them again, but I am glad I did them.
What is something new that you want to try? Do you want to ride on a tandem bike? Attempt sumo suit wresting? Go fishing? Play a round of disc golf? Sign up for a singing lesson?
Think of something you can do in that takes little time, that is local and relatively low cost and book it in on leap day. You are likely to have a ball, you may even develop a passion for it and if neither of those things happen, at the very least you will have an interesting story to tell.
2) Leap Day Idea – Make Something
There is something magical about creating something where nothing existing before. If there was anything that truly differentiates humans from the rest of the animal kingdom it is the ability to imagine and create. We have operas and skyscrapers and rocket ships that were once just wisps of an idea in someone's mind.
Use leap day to make something. You may not be able to write an entire opera but perhaps you could jot down a few song lyrics. Learn to fold origami cranes, sew together a pair of trousers, paint a picture, build a bird feeder or simply cook a delicious meal.
You have an entire additional 24 hours to construct something that is currently not in this world. Decide what you want to make today and get prepared to unleash your creativity on the 29th of February.
3) Leap Day Idea – Start Something
Leap day is the perfect time to start something new. Unlike 'try something' and 'make something' there is no expectation that you will finish whatever you start in the same day but leap day is as good as day as any to plant the seeds that will improve your life in the long run.
Use the day to attempt something challenging. Choose something you would love to eventually master, or at least get a lot better at. Try juggling, practice a simple magic trick, strum a new song on the guitar or learn a handful of words in a different language. Or make it day one of a longer-term project – type the first chapter of that novel you have always wanted to write, start knitting that scarf or rehearse the steps in a tango that could take you to the regional dance championships.
The first item I checked off in my year of doing 40 bucket list items was planting sunflower seeds. Sure, they didn't emerge until weeks later but as the old proverb says, the best time to plant a tree was 20 years ago and the second-best time is today.
Try, Make, Start
Deciding what you want to achieve ten years in the future is too mind-boggling. But you can determine what to do in the one extra day you have been gifted this year. Three easy ways to make February 29th your best leap day ever include trying something, making something and starting something.
Don't let February 29th pass you by. Do something out of the ordinary on leap day. Try something and show you are an action taker. Make something and tap into your innate creative side. Start something and see where it leads you into the next decade and beyond.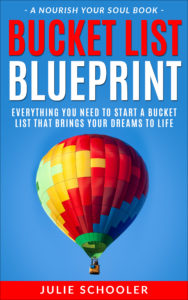 What will YOU do with your extra day? Please share in the comment section. And if you want, click on the #Gr8Blogs links below for even more inspiration for your gift of time.