With advertising blasting at us from every corner, video so easy to record and watch and the prevalence and pervasiveness of social media, we are more anxious, inattentive and absent-minded than ever before. It was hard enough a few years back to stay focused, but now we are so distracted it is a wonder we still speak in full sentences.
Did you know that:
we typically spend over three hours per day on our smart phones?
this is a conservative estimate – a phone is picked up 50 times per day?
over 70% of us look at another device while watching TV?
This may seem obvious but in order to invite back in more light and laughter into our real life, we must reduce our – mostly digital – distractions.
Here are three digital activities that need to be ditched to improve your life…
1) Digital Activity to Ditch – Allowing Push Notifications
Turn off your push notifications. PLEASE people! You don't need the latest celebrity tweet or WhatsApp group message flickering onto your smart phone screen every four seconds.
Keep your important calendar reminders on but turn the rest of them off! I am not going to tell you how. Go into your settings for the relevant apps and switch any push notifications to OFF. Please. Now.
2) Digital Activity to Ditch – Retaining Digi-Clutter
Do a digital declutter. You get to easily clear away some digital excess that will make your life so much better. This is like a proper declutter of your home but the best part is you don't have to get up off the sofa!
Don't know where to start? Here are some ideas:
unsubscribe from emails you don't need (especially those daily deal ones)
delete emails that you have read and taken action on
remove apps you don't use anymore
unfollow social media pages, groups and people that you no longer want to see in your feed
3) Digital Activity to Ditch – Excessive Usage
Change your habits with your smart phone or device. This is hard but believe me, it does make life more enjoyable.
Things I try to do:
No second screen in the room while watching a TV program or movie
Only look at social media three times per day – once in the morning, once around lunch and once in the evening
Not give my phone a quick glance any time I am waiting or could be bored, like when I am standing in line, waiting for the kids to finish something or, er, at the traffic lights. If it's a short wait I challenge myself to look around. Yes, at the world. Notice things. If it's a long wait, I always have an interesting article saved or a book to read on my Kindle or Apple Books apps on my phone.
Bonus tip: wear a watch. When I wear a watch, I am not pulling my phone out to look at the time and then swiping to check something
Digital Ditching Challenge
Push notifications, retaining digi-clutter and excessive usage are just three digital activities that need to be ditched to improve your life.
My challenge to you is ditch them for just one week. For seven days in your long, long life, remove your push notifications, unsubscribe from a few emails and make a conscious effort to put down your phone.
It may not be easy but it is worthwhile.
Let me know if these suggestions help you to improve your life in the comments.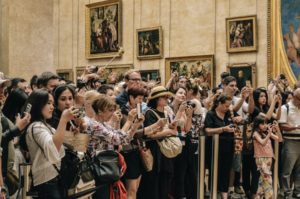 If you need more digital declutter tips check out my book, Clutter-Free Forever today.